Membership
Join the largest creative community established exclusively for visual arts educators, university professors, researchers and scholars, teaching artists, administrators, and art museum educators.
Join NAEA
Renew Membership
ListServ Sign Up
Collaborate. Learn. Engage in thoughtful dialogue.
Go
National Convention



The 2016 NAEA National Convention will be held March 17-19, 2016 in Chicago
at the McCormick Place Convention Center and Hilton Chicago Hotel.

The 2016 NAEA National Convention theme is:
Lead! Share Your Vision for Art Education
2016 NAEA National Convention Program Coordinator: Bob Reeker

Registration Form | Hotel Accommodations
Make Your Case to Attend | Encouragement Letter
Workshops & Special Sessions | Artisans Gallery Registration Form
THE COMPLETE LISTING OF FREE SESSIONS WILL BE AVAILABLE IN DECEMBER
The Call for Presentations deadline was May 31, 2015. Notice of acceptance/non-acceptance was e-mailed to the main presenter in early September. Notification of scheduled day and time for accepted session(s) will be e-mailed to main presenters in early November.
Convention Proposal Scoring Criteria

Every Leader Is an Artist: How the World's Greatest Artists Can Make You a More Creative Leader by Michael O'Malley and William Baker, is an insightful book that delves into the notion that attributes found in both leaders and artists are synonymous: intention, focus, authenticity, skill, and imagination. Leadership and creativity are often considered inextricable in today's fast-paced world. Working in a variety of contexts—public and private pK-12 schools and districts, colleges and universities, art museums, community arts organizations—art educators are teachers, artists, advocates, researchers, community builders, and LEADERS.

Since 1947, art educators have provided leadership that has shaped the field of research and practice in art education and positioned NAEA as the premier professional community for our field. Because NAEA is committed to supporting art educators in their quest to excel as leaders, the 2016 NAEA National Convention will explore the multi-faceted roles of the art educator through the prism of leadership. As a venue, Chicago provides the textural backdrop for immersing art educators in a multitude of settings—from the numerous art museums and design studios located throughout the city, to the many educational environs that provide rigorous experiences for students of all ages, and the diverse community arts venues that exemplify the city as a leader in the arts.
ABOUT THE NATIONAL CONVENTION. The NAEA National Convention is an annual event providing substantive professional development services that include the advancement of knowledge in all sessions, events, and activities for the purpose of improving visual arts instruction in American schools. As such, it is the world's largest art education convention.

The three-day convention includes over 1,000 participatory workshops, panels, seminars for job-alike groups...research reports, discussions, exhibits, and tours...keynote addresses by world-acclaimed educators, artists, researchers, and scholars...with the opportunity to connect with your colleagues from all over the world. Each year, some 110-200 exhibitor booths displaying the latest art textbooks, high-tech software, prints, slides, curriculum materials, equipment, and programs, as well as the latest studio and art history media are made available for examination and review by art educator delegates.

It is a professional development opportunity to update oneself on the vista of state-of-the-art materials to advance visual art instruction in local art programs. All sessions and events are 100 percent content-oriented and substantively based. There are no non-content functions such as golf, sightseeing, shopping tours, and the like. Sessions are scheduled daily from 8:00 am to 11:00 pm.
HOW TO ATTEND. The National Convention is held annually in the spring, usually March or April. Information about the Convention may be found in the summer and fall issues of NAEA News, as well as on our website. If you wish to be a presenter at the Convention, proposals must be submitted online and NAEA membership is required. The deadline is usually May 15 of the preceding year. A Convention schedule is posted online once session scheduling is complete, usually late November or early December of the preceding year. A convention mobile app is also released 1-2 months prior to the event start date.
REGISTRATION. Online registration opens in the fall 2015; and will allow attendees to purchase ticketed events in addition to registration. In the meantime, you may register using our paper registration form. The earlybird deadline is February 18, 2016. After that, attendees must pay onsite registration fees.
EARLYBIRD RATE
(by 2/18/16)
ONSITE RATE
(after 2/18/16)
Active Member

$165

$195

Retired Member

$120

$150

Student Member

$105

$125

Non-Member

$225

$255

Guest/Spouse

$120

$150
WHERE TO STAY. NAEA partnered with two hotel properties to host the 2016 National Convention: the Hilton Chicago and Palmer House Hilton. Transportation to and from the Convention Center will be provided at both the Hilton Chicago and Palmer House Hilton for specific hours each day for hotel guests only (see below). Limited evening activities hosted during the convention will be held at the Hilton Chicago.

The Hilton Chicago and Palmer House Hilton have separate housing reservation links. Please select your preferred lodging accommodations by clicking on one of the links below or call them at the number listed.

Please note that all rates quoted on the hotel website links below are for SINGLE occupancy only. Each additional person in your room will be an extra charge per night. We recommend that if booking a double room, you indicate the number of people in the room at the time of booking. Transportation to the Convention Center is only available to registered guests of the Hilton Chicago and Palmer House Hotels.
Hilton Chicago

, 877-865-5320

Run of House

Executive Level

Single

$215

$255

Double

$

235

$275

Triple

$265

$305

Quad

$295

$335

Palmer House Hilton

, 877-865-5321

Run of House

Executive Level

Single

$199

$239

Double

$229

$269

Triple

$259

$299

Quad

$289

$329
TRANSPORTATION. The majority of sessions (from 8:00 am – 6:00 pm) will be held in the Convention Center (McCormick Place); some sessions and workshops will be held in the Chicago Hilton Hotel. The Exhibit Hall will be located in the Convention Center.

NAEA will have bus transportation between the Hilton Chicago, Palmer House Hilton, and the Convention Center with the following schedule:
Wednesday, March 16, 2016
1:30pm - 7:30pm; 6 Coach buses (55 passenger)
Continual shuttle to/from Hilton Chicago, Palmer House Hilton, and Convention Center
Thursday, March 17, 2016
7am - 9am, 11am - 1pm, 6pm - 7pm; 15 buses (39 passenger)
Continual Shuttle to/from the Hilton Chicago, Palmer House Hilton, and Convention Center
Friday, March 18, 2016
7am - 9am, 11am- 1pm, 6pm - 7pm; 15 buses (39 passenger)
Continual Shuttle to/from the Hilton Chicago, Palmer House Hilton, and Convention Center
Saturday, March 19, 2016
7am - 9am, 11am - 1pm, 6pm - 7pm; 15 buses (39 passenger)
Continual Shuttle to/from the Hilton Chicago, Palmer House Hilton, and Convention Center
WORKSHOPS & SPECIAL SESSIONS. Click on links below to view daily listings of workshops and special events.
Preconvention Workshops: PDF | Word
Hands On Workshops: PDF | Word
Offsite Workshops: PDF | Word
Exhibitor Showcase Workshops: PDF | Word
Meals: PDF | Word
Special Events: PDF | Word
Tours: PDF | Word
**RESOURCES FROM THE 2015 NAEA NATIONAL CONVENTION (INCLUDING THE CERTIFICATE OF ATTENDANCE) ARE POSTED HERE**
Art Educator Links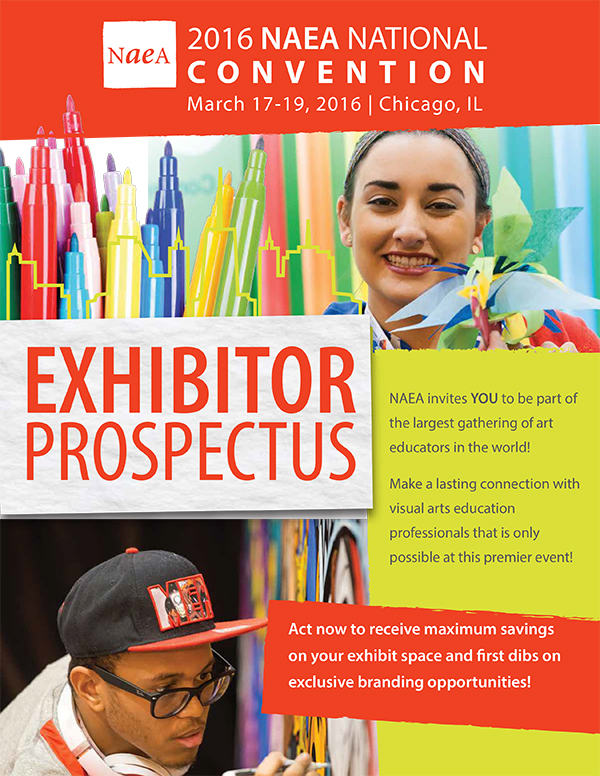 Interested in exhibiting at the National Convention?
Learn more
SAVE THE DATES
2017 NAEA National Convention
March 2–4, 2017
New York, New York USA

2018 NAEA National Convention
March 22–24, 2018
Seattle, Washington USA
RESOURCES FROM PAST
CONVENTIONS
Seth Freeman Photography